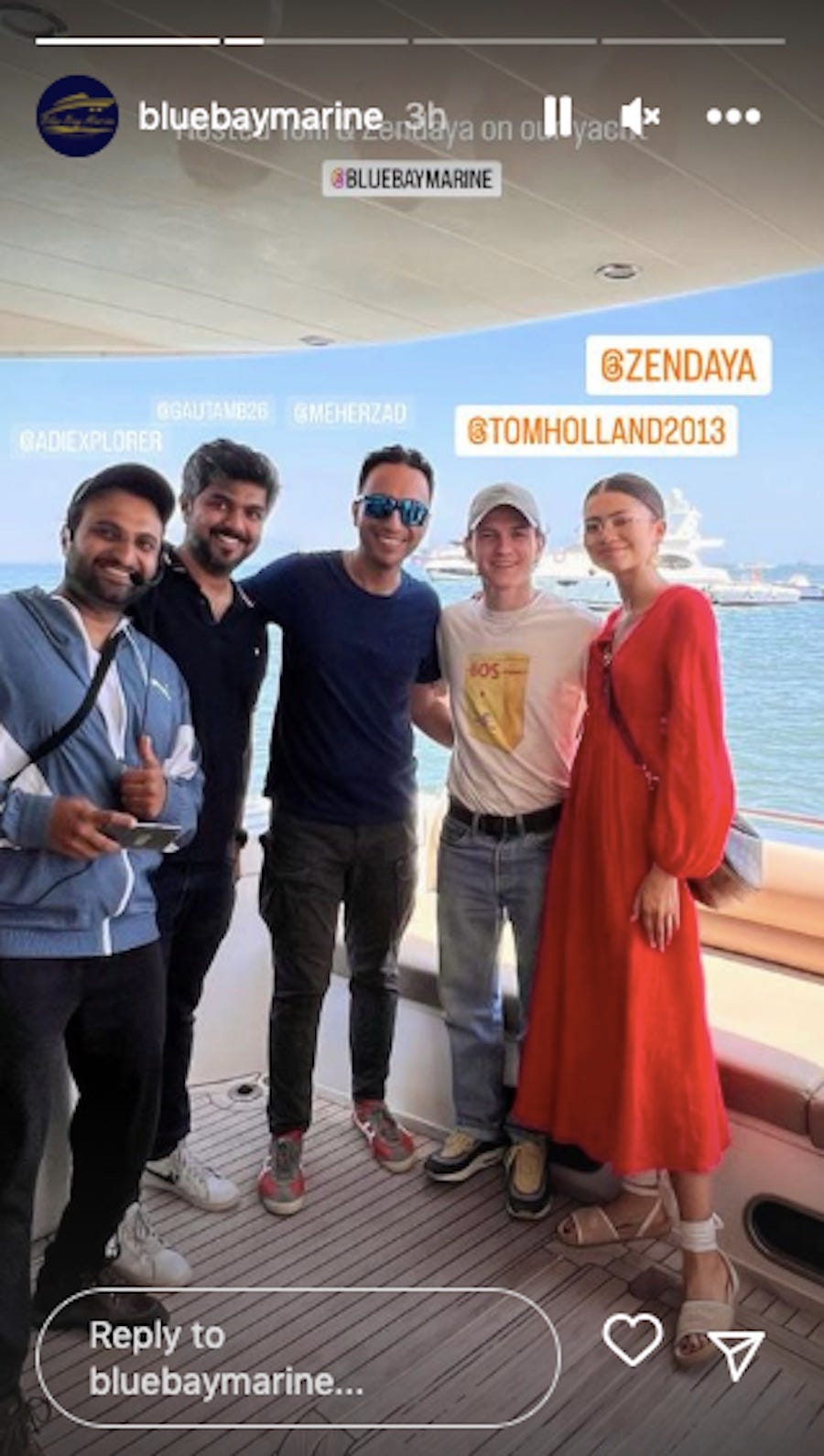 On Friday, Tom Holland and Zendaya were photographed together within the Mumbai airport heading to their automotive after a protracted day of travel. They were each dressed casually and comfortably, with Zendaya in a black sweatshirt and matching leggings, together with her hair pulled away from her face. Holland was in jeans and a black jacket with a baseball cap.
The couple have been doing a little bit of traveling currently and were seen a couple of weeks ago on London with Holland's parents, Dominic and Nikki, walking the family dogs, Tessa and Noon. Each of the Spider-Man: Far From Home stars have been busy with various work obligations and sometimes spend a good little bit of time apart; it is not clear if their time in India is said to a production or simply for sight-seeing, but they were spotted on the Instagram account of Blue Bay Marine, a yacht charter service, who shared a pic of the couple on a ship, writing, "Hosted Tom and Zendaya on our yacht."
Zendaya wore a protracted red dress with white sandals to the yacht outing, and her boyfriend was in a white t-shirt with blue jeans. Just before this post, Blue Bay Marine re-shared a video of Dior's team boarding as well — Dior had its collection presented at Mumbai's Gateway of India on Thursday. So it might be a fashion trip!
Instagram
We would never know. They're quite private about their love life because the relationship was unintentionally revealed with paparazzi photos of them sharing a kiss at a stoplight in Los Angeles. In November of 2021, Holland explained to GQ why they keep things quiet.
"I've all the time been really adamant to maintain my private life private because I share a lot of my life with the world anyway," he said. "We form of felt robbed of our privacy. I do not think it's about not being ready. It's just that we didn't need to."
Holland doesn't hold back now that the cat's out of the bag, steadily posting hearts and other adoring emojis on Zendaya's posts and celebrating each other's birthdays and massive milestones.

Aimée Lutkin is the weekend editor at ELLE.com. Her writing has appeared in Jezebel, Glamour, Marie Claire and more. Her first book, The Lonely Hunter, might be released by Dial Press in February 2022.