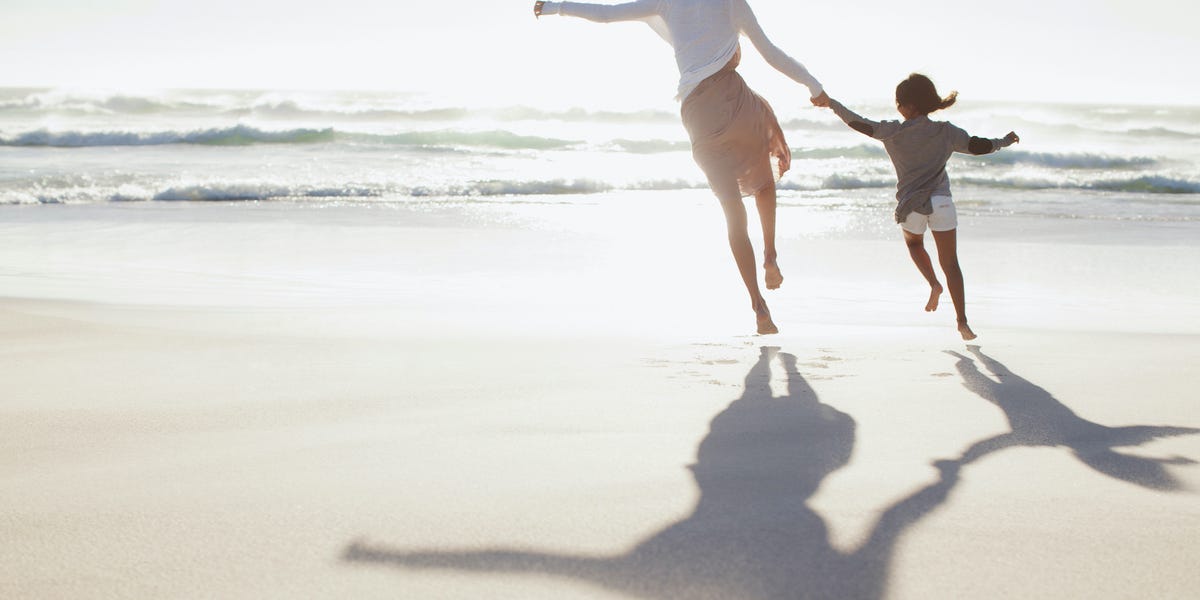 I admit, it didn't look good. My two-year-old daughter was lying on her back beating her sparkly jelly shoes against the bottom, hands balled up in fists, cheeks streaked with tears. My husband was together with her, he'd drawn the short straw while I'd escaped with the duty of securing our restaurant reservation. The table had an ideal view of the sun setting over the Greek island, and the slope where my daughter was screaming.
Next to me, two British couples sipped white wine and beer. At first, I didn't pay much attention to their comments—"What's improper with that girl?"; "Where's her mother?"—it was nothing I hadn't heard before. But in a short time, the conversation took a special turn. "He's not even attempting to cuddle her. He's just sitting there."
It was true, my husband wasn't attempting to cuddle her. He knew, as did I, that at this stage of the tantrum, approaching her would set off one other round. But he wasn't "just sitting there." He was whispering to her. I knew what he was saying because we said the identical thing at any time when she had a tantrum: "You're okay, baby, you're okay, I do know you're offended but we're here. If you're ready, we'll provide you with a cuddle."
Then one in every of the lads said something that made my mouth fall open. "He's obviously not the daddy. He looks nothing like her." I watched him slide an olive into his mouth. "What if he's kidnapped her? She's fighting and we're all just watching." He pushed his aviators to the highest of his head and reached for his phone. "That's it. I'm calling the police."
Find out how to describe my daughter? She's fiercely intelligent. She's strong-willed. She has the center of a lion, the wiles of a fox, and the memory of an elephant—when you promise her something, you'd higher deliver. She's beautiful. Her hair is chestnut and lightens in the summertime. From a distance, her eyes look brown but up close, they're flecked with amber. She is all these items because she is entirely herself and since she is our daughter. I'm Singaporean-Chinese—petite, dark brown hair, dark eyes. My husband is white British—tall, blonde, blue eyes.
The incident in Greece was not the primary time I'd been confronted with the complexities of race. As a South-East Asian woman living in London, race is inescapable. I used to be afraid to exit when COVID hit. I'm catcalled in a mish-mash of mispronounced one-liners. I'm told to go home. I'm continuously mistaken for other Asians. A girl once informed me that I used to be Japanese. I should have looked confused because she proceeded to spell out "Japanese." I didn't tell her that I used to be a lawyer and a author and that each these items are profoundly at odds with the shortcoming to spell. She didn't seem particularly occupied with facts.
As a South-East Asian creator, race can also be inescapable. Like most writers, I portray characters that reflect my very own background. In the primary drafts of my novel, Bad Fruit, my protagonist, like me, had Singaporean parents who migrated to the UK. I desired to capture the liminal space that second-generation immigrants occupy—the correct accent but not the correct skin tone, the identical education but not the identical school experience. The sense of never quite belonging to a white world or an Asian one.
As a South-East Asian woman living in London, race is inescapable.
However the scene in Greece made something painfully clear: My experience as a South-East Asian in a predominately white culture was vastly different from my daughter's experience as multiracial. Nonetheless much I felt different from my parents, I didn't actually look different. My appearance had never been grounds for the reporting of against the law.
This avid fascination with how white my daughter is, how Asian, how she looks like her parents, how she doesn't, isn't restricted to white Brits on holiday. It comes from my side of the family, too—Asian relatives who often dissect my daughter's features down racial lines. "The form of her eyes is Chinese but not the colour." "Her cheeks and nose are ours but not her skin." Once I hear these words, once I remember them, a desperation flares inside me, makes me clasp my daughter to my chest. I feel the identical spark of danger I felt in Greece, like she is about to be cut adrift. She is simply five.
After the incident in Greece, I replayed the scene over and over in my head, attempting to determine what I must have said. Sometimes, I practiced patient education: "Do you understand how damaging your racialization is? Do you see the way it excludes her from us?" Other times, I practiced rage: "Do you would like to line my family up in color order? Would you do that to a white girl?" Looking back, I can see I used to be punishing myself. Because, within the moment, I'd said none of those things. I'd stood up, shaking as I pushed my chair back, and begged: "Please don't call the police. That's my husband and my daughter. She's just having a tantrum."
Credit: Astra House
Months went by of me doing this to myself, of going again and again what I didn't do, how I could have done higher, until during an early morning writing session, I noticed something. The person, my Asian relatives, every one who'd hurt my family through their microaggressions, their outright racism, had done it with words. But I had words, too. Words which may at some point be published, words that had the potential to succeed in 1000's. So I made a call. I modified my protagonist's race from Singaporean-Chinese to multiracial. I wrote about colorism. I told a story a couple of child who's consistently othered from her parents.
I comprehend it's just fiction; I comprehend it's just words. But I hope that my words, joined with 1000's of other diverse voices, might raise a choir so loud, it might be playing the following time a person at a seaside restaurant thinks about reporting the kidnapping of somewhat girl having a tantrum together with her father. It might be exactly what convinces my daughter to refuse to fracture herself into the white, the Asian. It could persuade the hundreds of thousands of multiracial children to think, I'm wholly myself. Astonishing, unique. Indivisible.
Bad Fruit by Ella King is published by Astra House and is out on August 23, 2022.