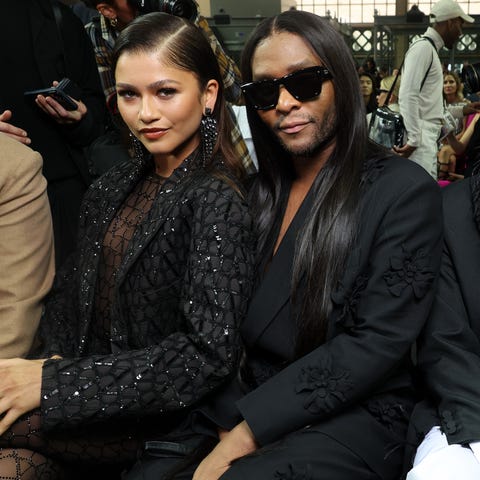 Law Roach announcing his retirement from styling shocked the world…together with the celebrity he works closest with, Zendaya, who came upon at the identical time everyone else did, Roach told Emily Ratajkowski on her High Low podcast.
"It was tough for her," Roach began. "Okay, so Zendaya it's 4 of us—it's Zendaya, her assistant Darnell [Appling], her niece, and myself. We're her core, we're core. And so she calls, she said, 'Girl, I believed we might make big decisions together.'"
Roach confirmed that yes, he shared his retirement announcement Instagram post before telling Zendaya about his plans. "After all she supported me," he said. "She's like, do you would like me to send you on a vacation? Like, tell me what, tell me what you are going through. And I talk[ed] to her about, you understand, just being unhappy and being unhappy for a very very long time and still grieving the death of my nephew [who passed away two years ago when he was just three years old]. So we had that talk. And he or she was like, whatever you would like, whatever you would like. But the web is cruel. It's really cruel. So people began in charge her for my retirement. And that wasn't fair to her. And the things they were saying, in fact, [suggesting Zendaya may have helped sparked his retirement] is not true. In order that spilled over to my suffering; she began to suffer too. I didn't think that was fair. Because she has all the time protected me on this industry and vice versa."
Pascal Le SegretainGetty Images
He spoke more about his decision to retire, saying he realized he was miserable and did not have far more to his life than work. "I just began to appreciate like, I'm not in relationship, I even have never been in a relationship," he said. "These last eight, nine years, my focus has only been my profession blinders on, so I lost a number of friends…my friends don't live the identical sort of lifestyle. So we won't, I can not plan a visit with them. They're like, 'Oh, we're gonna go to Miami.' And I'm like, 'If I'm not working, I'll come.' But normally I'm working. Yeah. And my business is so big that it's all I do, it's all I even have. And I woke up and I used to be identical to, ' what, I have been—and then you definitely begin to take into consideration all these experiences—I have been miserable and unhappy for a very long time. And I have been pretending to be perfect.'"
Alyssa Bailey
Senior News and Strategy Editor
Alyssa Bailey is the senior news and strategy editor at ELLE.com, where she oversees coverage of celebrities and royals (particularly Meghan Markle and Kate Middleton).