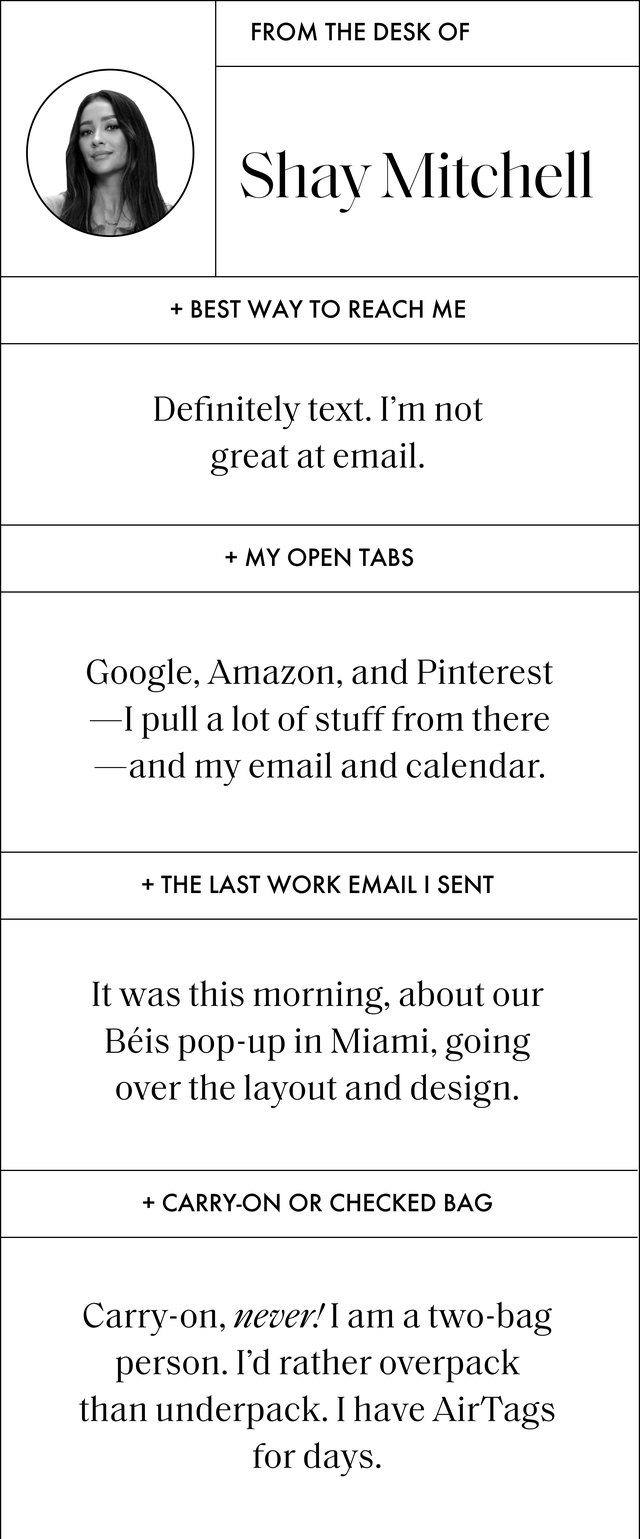 In ELLE.com's monthly series Office Hours, we ask people in powerful positions to take us through their first jobs, worst jobs, and every thing in between. This month we spoke to actress, model, entrepreneur, and mother of two Shay Mitchell, who isn't only celebrating five years of her travel brand Béis, but a just-launched kids collection. (Béis translates to "beige," after a beige bag Mitchell used to travel with.) "It truly is my first baby," she tells ELLE.com of her company, which focuses on functional luggage. "Each detail, from the design to the models we book for our ad campaigns, I oversee." It's hard to imagine she still has time to run her tequila seltzer brand, Onda, too. Here, Mitchell talks diversity in Hollywood, what's at all times in her bag, and why Drake is her secret fan.
My first job
I worked at a café in Vancouver called Coco Loco. They served sandwiches and occasional, and I could never work out learn how to get the rattling coffee machine to work—it was this elaborate Italian espresso maker and I at all times messed it up. I feel my salary was $7 or $8 an hour. I'm still scarred from that have. People would are available with the craziest coffee orders. Now, my order is super easy because I understand how hard it's for the baristas.
My worst job
Bottle service. I hated it. It wasn't the job as much because the situation—navigating crowds, coping with really difficult customers once they're intoxicated, etc.—but the cash was superb. You'd leave with great suggestions, but you never knew what you were stepping into on any given night.
On diversity in Hollywood
I remember getting the audition for Pretty Little Liars, and the character of Emily within the book had strawberry blonde hair with freckles and a particularly reasonable complexion. After I first booked the part, everybody was like, "What? You don't appear like the girl round the corner." But I feel, at the moment, I'm the girl round the corner. That didn't deter me back then. I used to be going to go for it regardless, because I didn't wish to look back with regrets.
How I transitioned out of the entertainment industry
There was at all times numerous downtime on the Pretty Little Liars set while I waited for the subsequent scene, so I began a blog, which kept me busy between takes. From there, I wrote a book. After which, during our breaks from filming, I might travel, so I created a YouTube channel that documented my trips. When Shaycations took off, my friends would continuously ask me for recommendations and packing advice.
The facility of self-documenting
I used to be at all times that girl with the camera. Like, on the club, I'd have the digital camera. I actually have way too many photos on my phone and on my laptop. Documenting has at all times been necessary to me, in order that I can remember the experience and share it with others, so that they can go and experience it too. It felt selfish to do otherwise. I used to be like, this is just too good to simply keep to myself. My trip to India remains to be certainly one of my best pieces of content.
Why I began Béis
I've at all times known that there was an entrepreneurial side to me, and I at all times desired to get into business, but I had never been to high school. I've had experiences with luggage where wheels would fall off and I'd get indignant at myself for not spending extra money to get a greater bag. After I knew it was time to begin my very own company, I noticed there was an enormous gap out there: you either had super expensive corporations with crazy bags that weren't even functional, and on the opposite side of the spectrum, you had reasonably priced bags that were ugly and never well-made.
Principally, I wanted a line of reasonably priced bags that had all of the function I could dream up and look really good at the identical time. The worth was really necessary to me, because I understand how expensive traveling is—I don't want the baggage to interrupt the bank because you need to give you the option to spend that cash on the experiences you will have. It's an on-the-go brand, whether you're happening a hike, to the gym, or to the food market. I would like to offer different accessories for all of those various things, so everyone can have the bag that makes them feel at home once they're not at home.
What's at all times in my bag
My cosmetics case for on-the-go touchups. After I'm traveling, I exploit our recyclable tote due to the functionality—certain compartments just make every thing really easy. I do know exactly where my passport is and exactly where I put my snacks and water bottle.

Best profession advice I've ever received
Work with people who find themselves smarter than you. My whole motto in life is "I actually have this one life. What do I would like to do?" I never wish to look back and need I had done something. So whatever the experience or lack of experience I actually have by way of design, business marketing, all of it, I just needed to [launch Béis]. I brought people onto my team that were smarter than me and had far more experience and were experts in their very own fields. That's something I've never been afraid to do.
How I balance work and family
I take time to myself because I actually have an incredible team around me. There's no way I could do what I do without the assistance of individuals—every thing from childcare to my team, my publicist, my agent. I owe all of it to them.
Most surprising Onda fan
My primary customer is Drake—and it has nothing to do with me. He found it on his own and pays for it, gets it delivered, and travels with it. He has Onda on him in any respect times!
This interview has been edited and condensed.

Deputy Editor
Claire Stern is the Deputy Editor of ELLE.com. Previously, she served as Editor at Bergdorf Goodman. Her interests include fashion, food, travel, music, Peloton, and The Hills—not necessarily in that order. She used to have a Harriet the Spy notebook and isn't ashamed to confess it.