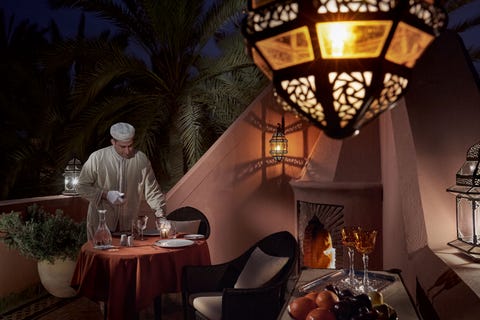 When my Moroccan-born partner and I made a decision to go on vacation together to his home country, he volunteered to tackle the Fez leg of the trip if I'd organize our time in Marrakech. Immediately, I used to be apprehensive: How would I, an American, have the opportunity to rearrange a soothing and indulgent experience for an area in Marrakech, a city I'd only been to once? Seems I had nothing to fret about. After we pulled up the long, shaded driveway of the Royal Mansour hotel, we could each feel the stress from the plane journey immediately leaving our bodies. This was what vacation was alleged to feel like.
Owned by the King of Morocco himself, the five-star Royal Mansour hotel is—by far—the most effective hotel I've ever stayed at. To begin, there aren't rooms, there are riads—each guest gets a three-story house to themselves, complete with multiple indoor and outdoor living areas, 1.5 bathrooms, and a bedroom the dimensions of my Recent York City apartment. The roof is where the actual magic happens, though: a covered terrace is the right place to drink Moroccan mint tea before taking a dip within the private rooftop plunge pool.
Priced at about $1,000 to $1,500 per night, staying at Royal Mansour costs enough that it must be a once in a lifetime experience—and it's. The hotel caters to well-heeled travelers with champagne taste and a champagne budget—look no further than its collaborations with Goyard and Christian Louboutin for proof.
ELLE.com sat down with General Manager Jean-Claude Messant, formerly of Paris' beloved Hôtel de Crillon, to speak in regards to the storied property.
What made you choose to take in your role at Royal Mansour?
I suppose I moved down here for the hotel. Would I even have moved here to run one other hotel? Probably not. I made a couple of inquiries. I came over, and the day I got here, I saw those two gates, those two monumental gates, open for me. And I said to my wife, "That is me. That is my hotel." I didn't go inside, I used to be just outside—I knew just from outside.
What feeling are you hoping to evoke in guests after they first arrive here? What do you wish them to think or to feel?
To me, the sense of arrival could be very vital, and I'd judge a hotel in actually one minute. Once I get right into a lobby, I do know…I haven't been to the bedroom yet, but I do know, I can feel, I can sense that I'm going to prefer it or not. And so the arrival, the welcome, the smile, the hello, the setup, the design of the lobby, the architecture of the lobby, to me, that's very vital.
What I like is coming to your hotel with, "Wow." And I remember a couple of years ago for the primary time I stayed on the Ritz in Paris, and I used to be out of my automobile standing outside of the gates, and I felt, "Wow." And to me, that was more vital than anything. Often while you check in, you only wish to go to your room. But when guests arrive to the Royal Mansour, they're quite pleased to attend somewhat bit, discover, walk around, because [there are] so many things you must take a look at, touch, all of the senses. The waters and the music.
The private terrace set for dinner.
Royal Mansour
For the previous couple of years we've been coping with COVID, which has greatly impacted the travel industry. I'm curious how those years were for you as a hotel and as a hotel manager.
We shut down the hotel in March 2020, and the hotel was at the highest, business-wise and quality-wise. We were expecting a unprecedented 2020. We shut down inside two days; we managed to get everybody out safely. And I used to be lucky to have the opportunity to charter a plane for my last 50 guests. So in a short time I went into war mode: get everybody from the staff out and back home. Over 600 people left for Paris. So, inside two or three days, we went from an especially busy hotel with a number of motion and emotion to nothing.
I stayed in Marrakech. And inside five days of staying home, I got bored. So I got here back to the hotel, after which, little by little, we began to focus, primary, on the staff. My concern was my people and the staff and looking out after them, and communicating. So I became a TV presenter, and God knows what number of videos we did, but I desired to have the opportunity to have a link with them.
Then I began a YouTube series, Diaries of a Confined Palace. We had one guest staying with us nonstop, and in the future she sent me a message, and it was the diary of a confined guest. She told me what she did that day and the day before, and I said, "Hey, that's a superb idea. I'm going to do the identical." And it worked very well.
This content is imported from youTube. You could have the opportunity to seek out the identical content in one other format, or you could have the opportunity to seek out more information, at their website online.
The hotel collaborates with luxury brands and curates picks for the Royal Mansour shop. I noticed the Goyard bag specifically, however the clerk said it's been sold out because the day it went on sale.
Yes, we only have one left within the protected.
Within the protected?
As a souvenir for His Majesty. Goyard said, "We'll produce 50 for you," and we sold them at $5,000 each.
I like all of the uniforms here, too. They're so beautiful, so high- quality. Did you partner with a particular designer to make them? How did they arrive about?
Well, all the normal Moroccan uniforms are made in Morocco by a clothier named Albert Oiknine. They should feel good of their uniforms. It's the query of: how do you provide them with something that's practical, but easy to take care of, nice, and feels good? You're feeling that you just're pleased to place it on.
Who're among the guests that you just're proudest to have served?
What I'm going to inform you may surprise you. It's not the wealthy and famous—it's those who either got here for an important day or it was, for them, the trip of a lifetime.
We did a marriage about 4 years ago, and a gentleman got here in and said, "I would love to prepare a special wedding ceremony." I said, "Advantageous, what number of will you be?" "Just two of us." He said, "My fiancée is 61; I'm 65. We've been together for 30 years."
She was his PA; when he retired, he asked her to get married. He said, "I don't wish to invite anyone, because I would like it to be a really special moment for me and my wife. And okay, there is no such thing as a limit to what I'll spend on food and all the things else." But, he clarified, "I would like her to feel like she's very special, like she's a princess." And we actually spent quite a little bit of money on entertaining, the music, decoration, and the trail from the arrival to the venue…yeah. That's why I do that job.